I was asked to review this DVD Prima Princessa presents Swan Lake and I jumped at the chance. My lovebug is 2 yrs old and loves to dance and gallop around my house, so I figured she would love it!
The DVD is awesome! It shows you clips of Swan Lake preformed by the Paris Opera Ballet and then shows you the Ballet moves to learn and then shows clips of Students from the School of American Ballet & little prima Princessa Ballerinas doing the moves. My lovebug loved the Jete' the most.. :)
She was even sad when it stopped
This DVD is PERFECT for any little girl wanting to dance and learn to dance! It's fun to get the wiggles out and fun to just watch together mommy, daughter time! It runs 40minutes so not too long to lose the attention of the little ones, but long enough to have some fun time together.

I can't wait until piglet is old enough that they can do it together as sisters.. :)
It sells for ONLY $6.99 and is totally worth it! For more information on the DVD and where to buy it check out www.primaprincessa.com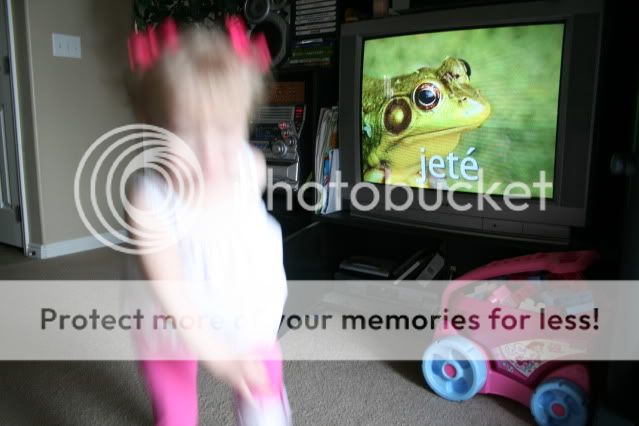 TADAA!!! she kept saying, and she said AGAIN and watched it THREE times in a row!
Yeah for Prima Princessa presents Swan Lake
Thanks to Mary Kate Mellow for letting us test out this DVD. We love it and would love to continue to test and review your future products!
*Disclaimer: I receieved a copy of this DVD free of charge in exchange for this review, no other compensation was exchanged.