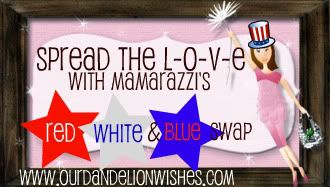 WAHOO! I am so excited this was my first swap to participate in, and I had a blast, it was so much fun to pick and choose what I sent my partner (even if little town prevented me from getting what I really wanted to send) as well as how much fun it was to get my package today and open it one thing at a time... and boy there was A LOT OF ITEMS!!!
First It started out with a HUGE and HEAVY box...
Then I got this ADORABLE flip flop card : WHICH I LOVE FLIP FLOPS...
Then I got this ADORABLE bag, Which I LOVE LOVE LOVE, 1. a woman can NEVER have too many bags, and 2. I have been looking for one just like it lately. Then I started unloading the bag and WOW, Do you believe all that
Jinii
stuffed in there?
*puts my package to shame*
So here's what I got :
*and don't mind some of my other fav. things in the background- Twilight and Harry Potter books*
the bag:

Vogue & InStyle magazines

Mothers cookies
Red nail polish
A pedicure set
Sugar cookie mix
Red & Blue Sprinkles
A Pinwheel

Smores ingredients: (grahmns, mellows and chocolate

*the chocolate went straight to the fridge that's why it's not pictured*

Pim's Ras. Chocolate cookies
cute star cupcake liners
a TUTU for little miss A
Soft soap Pomegranate body wash

Reeses PB cups
So funny how we don't know each other that well, but she got me stuff I would buy myself!
Smores-my fav summer dessert! anything with PB- my fav, sugar cookie mix- my fav. cookie
smell goods, pedicure stuff-
(for those of you who don't know I'm a nail technician and I don't think my partner knows that!),
the polish I was looking for RED yesterday to do some festive nails with, I love the stuff she got little miss A... tutus are so cute she will be wearing this on Sat! Seriously it doesn't get better than this!
How did it all fit?
Thanks Jinii, & Mamarazzi!
I had fun!